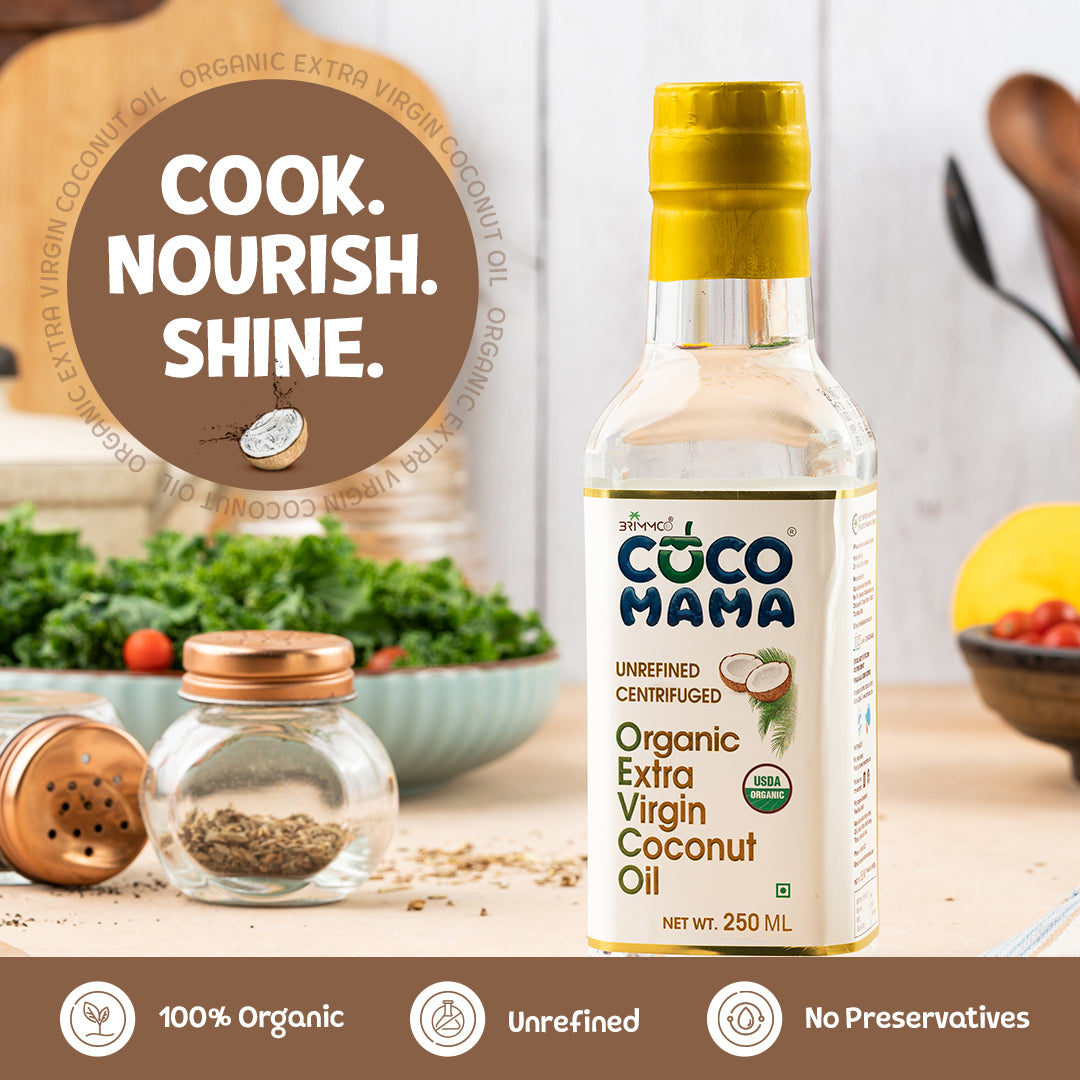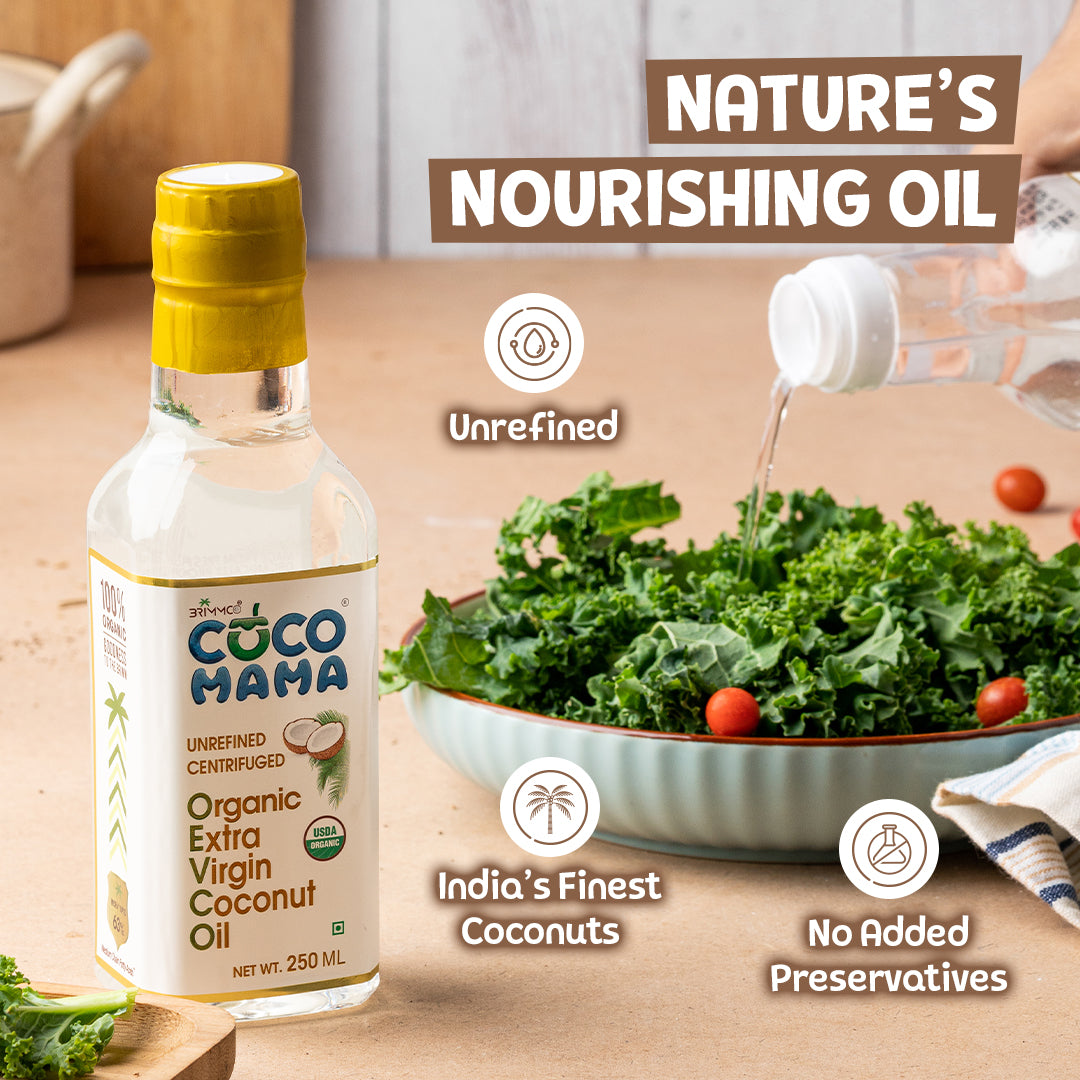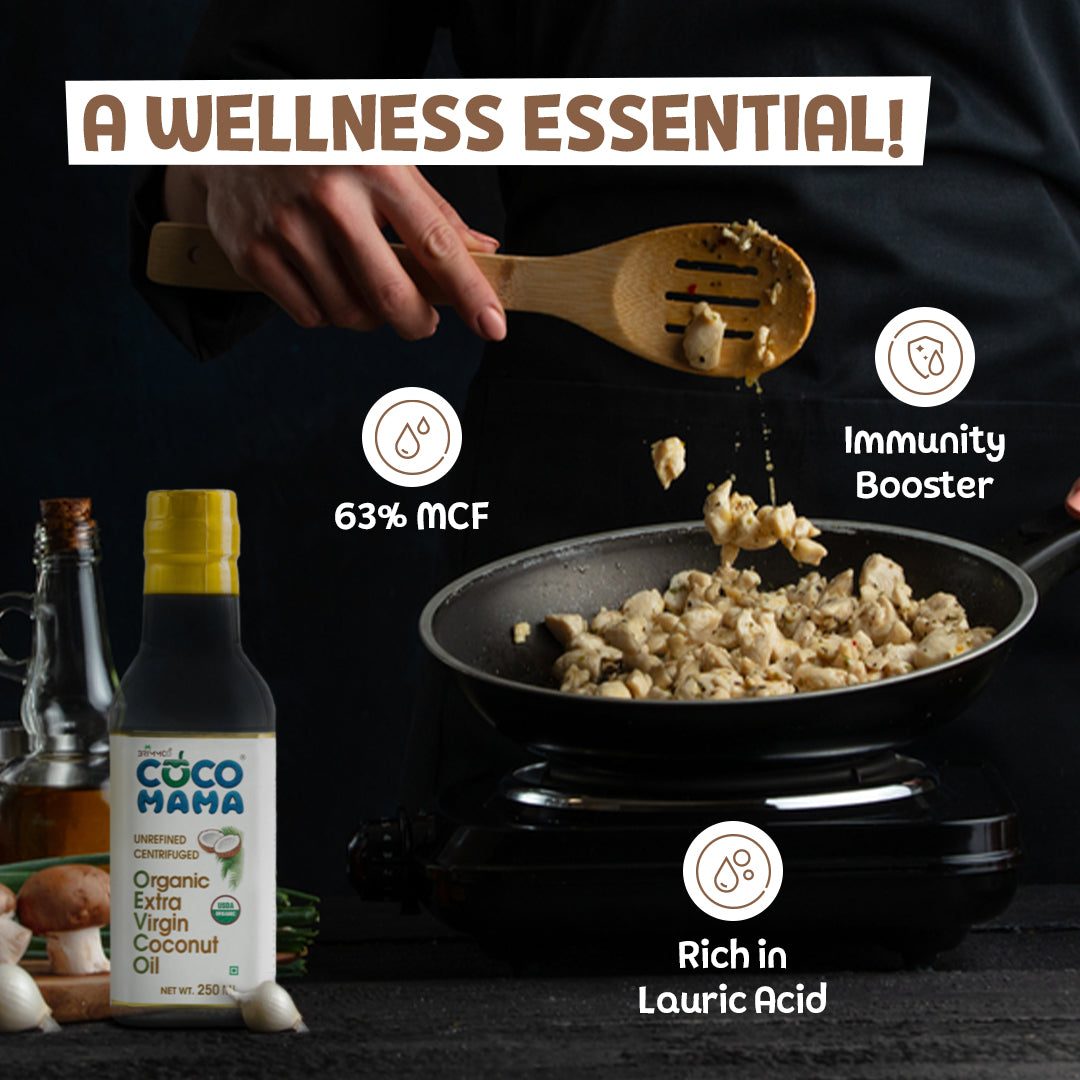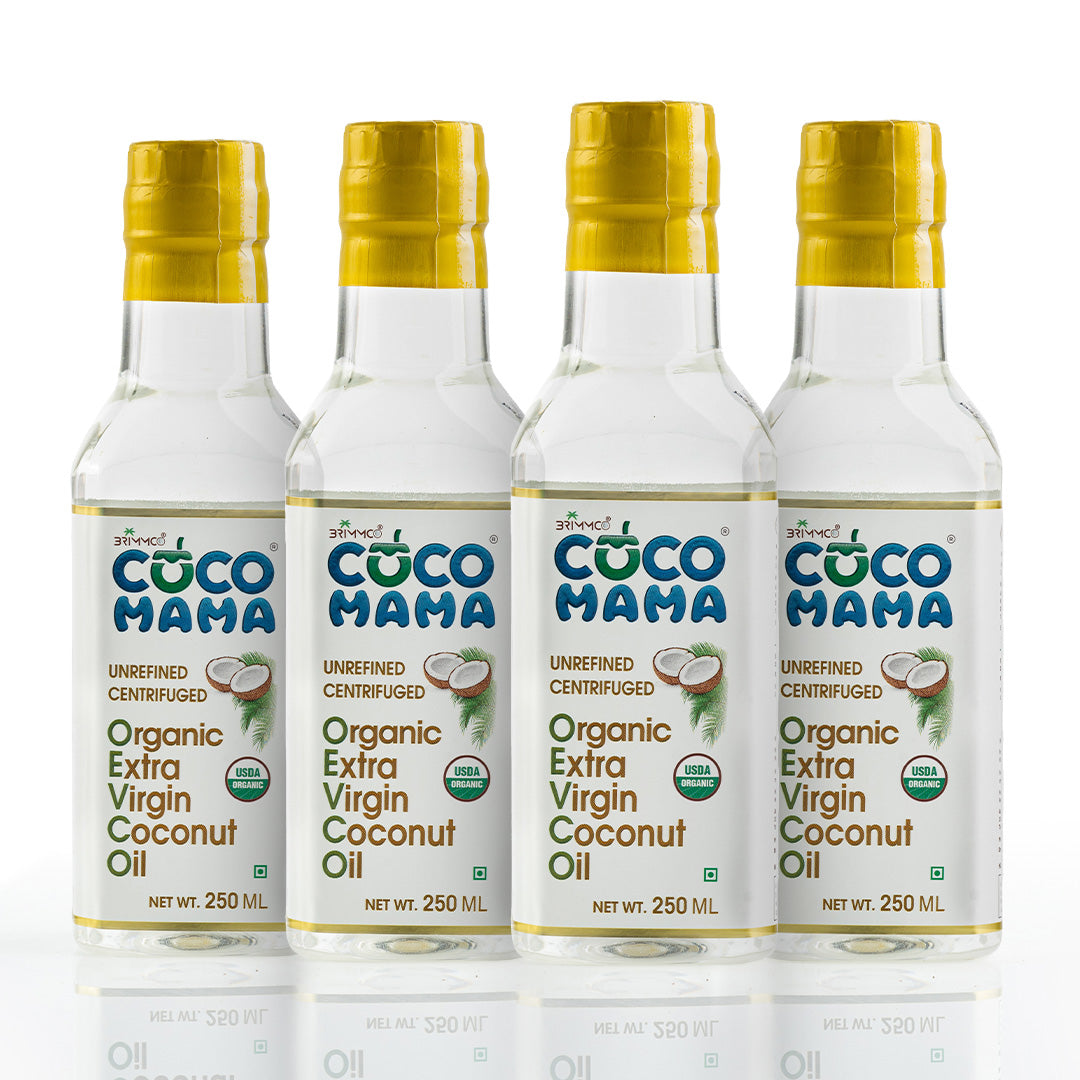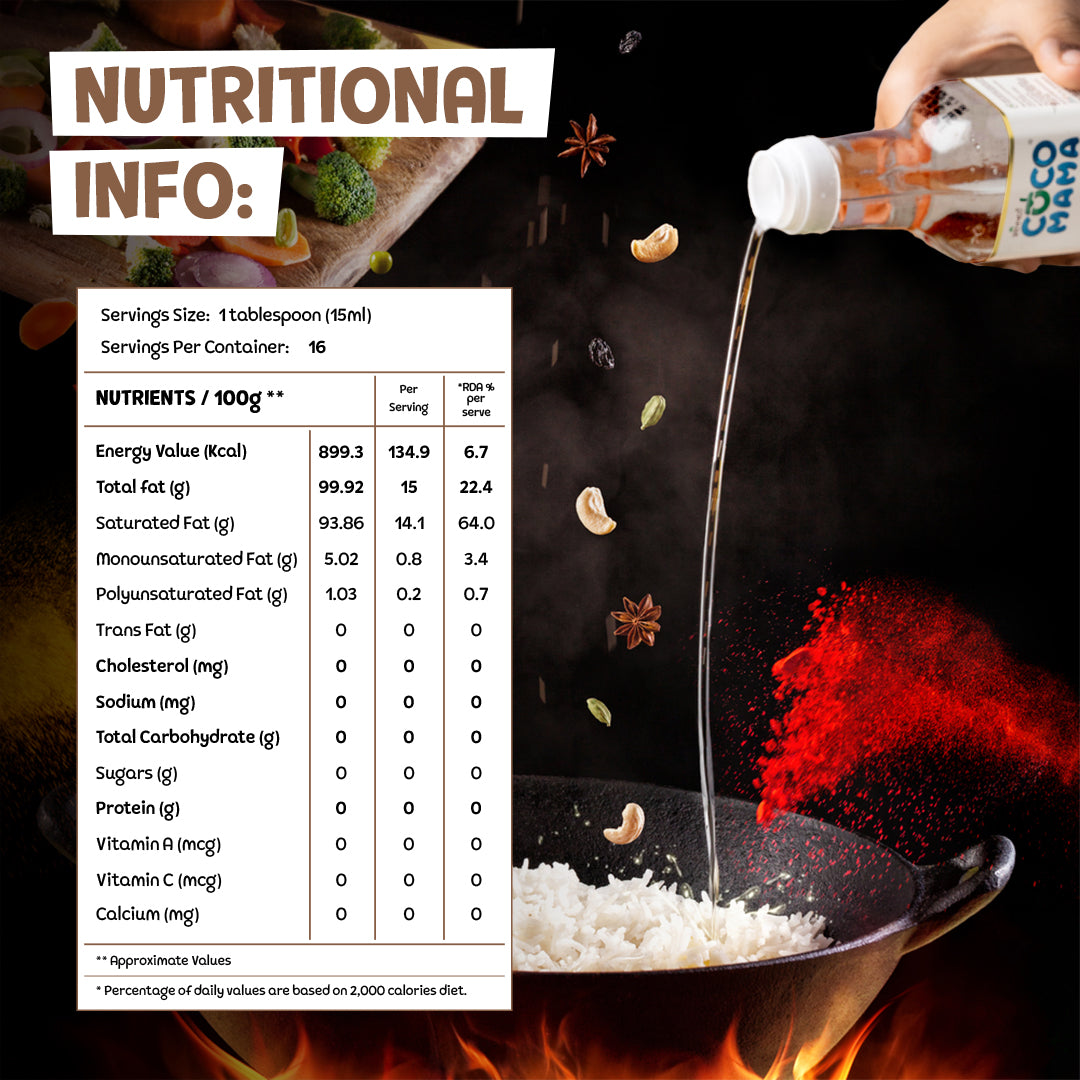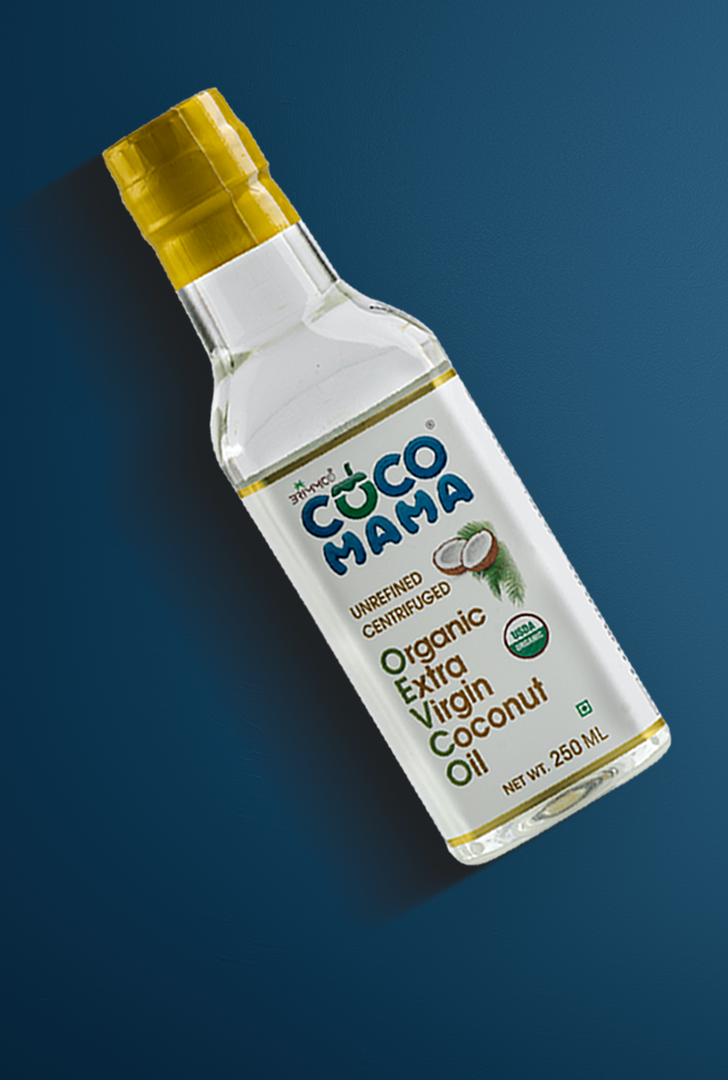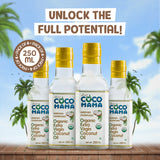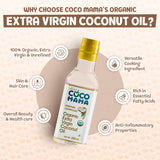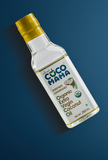 Coco Mama - Organic Extra Virgin Coconut Oil, 250 ml (pack of 1, 2, 4 & 6)
We like to call it "Magic Bottle", this organic oil works wonders when it comes to cooking, hair care, skin care and everything in between.
Unrefined Coconut Oil

Vegan

No Added Preservatives

Rich in Essential Fatty Acids

Rich in Lauric Acid

Used in Cooking

63% MCF
YOU SHOULD READ THIS!
THE TRUTH ABOUT
EXTRA VIRGIN COCONUT OIL
The King of versatility, Coconut oil is Antifungal, anti microbial, anti viral and anti inflammatory!
The saturated fat in coconut oil is GOOD for you
If you are into high temperature cooking, this oil is just the thing for you!
Every Celebrity, Model, And Beauty Guru Loves Coconut Oil, you can check with Malaika Arora 
WHY IS THIS INEXPENSIVE &
DELICIOUS OIL SO GOOD FOR YOU
A natural energy booster - coconut oil can work nicely to become a great afternoon pick-me-up
Coconut Oil helps you protect the skin from free radicals making you younger for longer
Believe it or not, coconut oil can actually help with the treatment of stomach conditions like Irritable Bowel Syndrome (IBS)
It Can Prevent Gum Disease & Tooth Decay
+

-

NUTRITION INFORMATION

NUTRIENTS / 100ml* *
*RDA % per serve (15ml)
Energy value 
899.3
Kcal
6.7
Total fat
99.92
g
22.4
Saturated fat
93.86
g
64.0
Monounsaturated fat
5.02
g
3.4
Polyunsaturated fat
1.03
g
0.7
Trans Fat
0
g
0
Cholesterol

0
mg
0
Sodium
0
mg
0
Total Carbohydrate

0
g
0
Sugars

0
g
0
Protein
0
g
0
Vitamin A
0
mcg
0
Vitamin C
0
mcg
0
Calcium
0
mg
0

+

-

Shipping & Dispatch Time

5 Working Days From The Date Of Placing Your Order.

This product is non-returnable. Exchange or Refund will not be made against a non-returnable item unless there is a defect or is different from its description.

+

-

FAQs

What is the shelf life of your products?

The shelf life of our products varies depending on the product. CocoMama's Extra Virgin Coconut Oil have a shelf life of 12 months. You can also refer to the product label for details regarding shelf life.

How many days does your product last after opening?

Once opened, we suggest you consume the product within the expiry period mentioned on the product.

Can I get your products home delivered?

Yes. Currently, we have a home delivery service available in certain regions. We will be starting home deliveries to other locations soon. Meanwhile, for delivery across other cities, you can check Bigbasket.com or Amazon.in.

Can the kids consume your products?

Absolutely! Our products are great for boosting energy levels naturally and make a great healthy snack for kids.

Can I have your products empty stomach?

Sure. You can also have them along with meals or simply every time you feel like re-energising or have something healthy!

Can I have the products if I am nursing/pregnant/diabetic/taking medication?

While our products are fit for consumption for everyone, we advise you please consult your physician for advice before consuming.

Can I have your products after the expiry date?

We strongly advise you not to consume the product after the expiry date.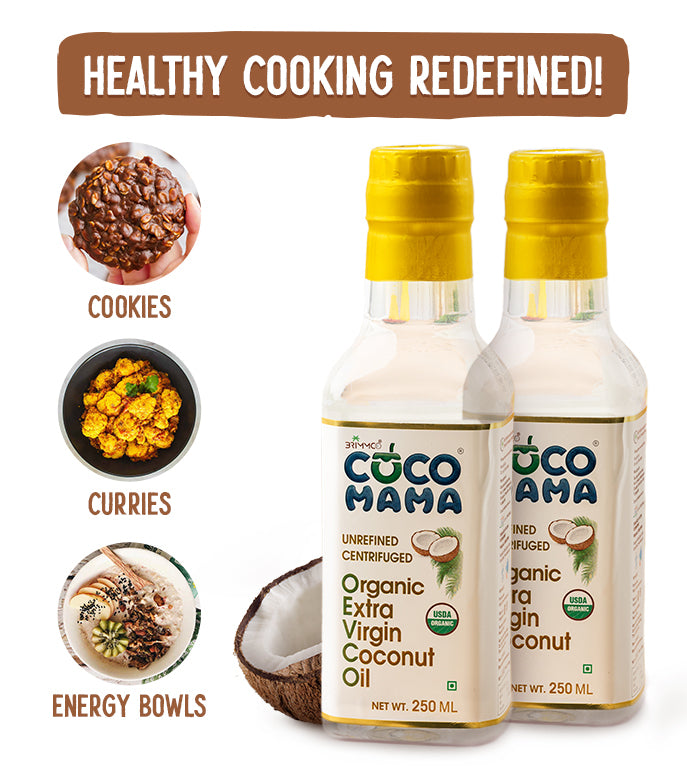 REVIEWS
Excellent product
Great product for great taste and health. Food tastes better when cooked with coco mama extra virgin coconut oil. It improves HDL levels and makes you a lot healthier!
5 on 5. Value for money and good for dietary consumption. So good to have in daily routine.

Free Shipping
Delivered at your Doorstep

Online Support
24/7 Online Support provided
Secure Payment
Fully Secured Payment System