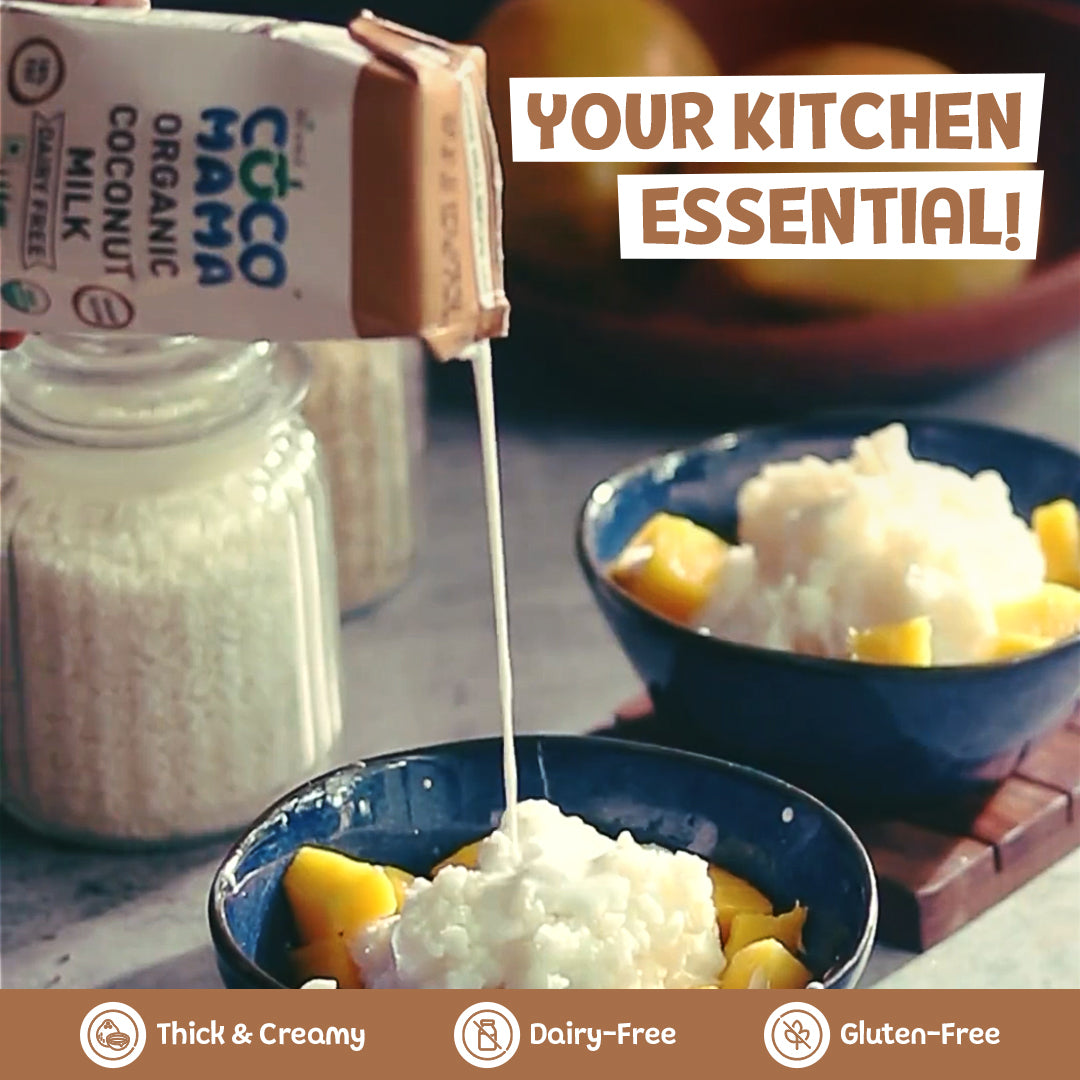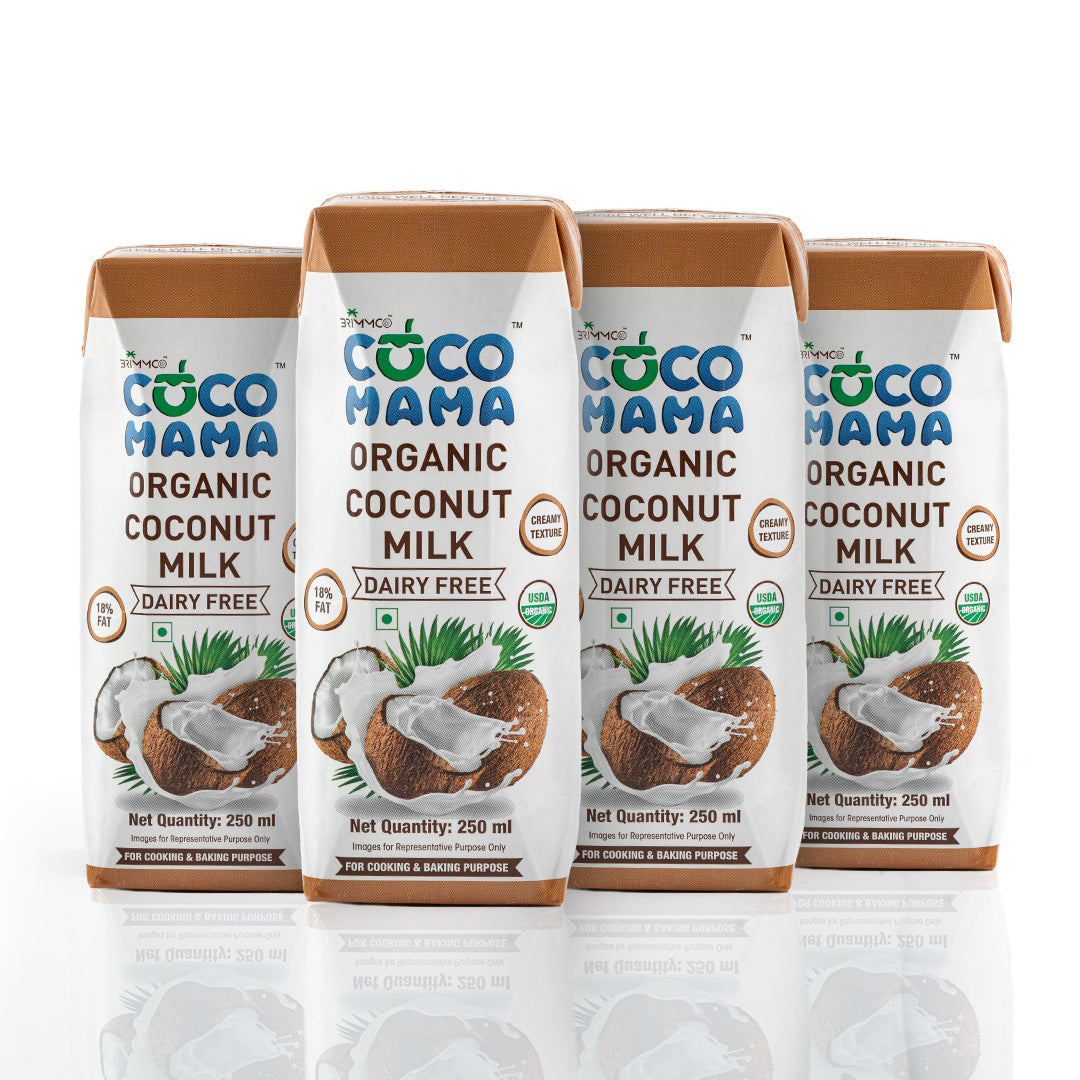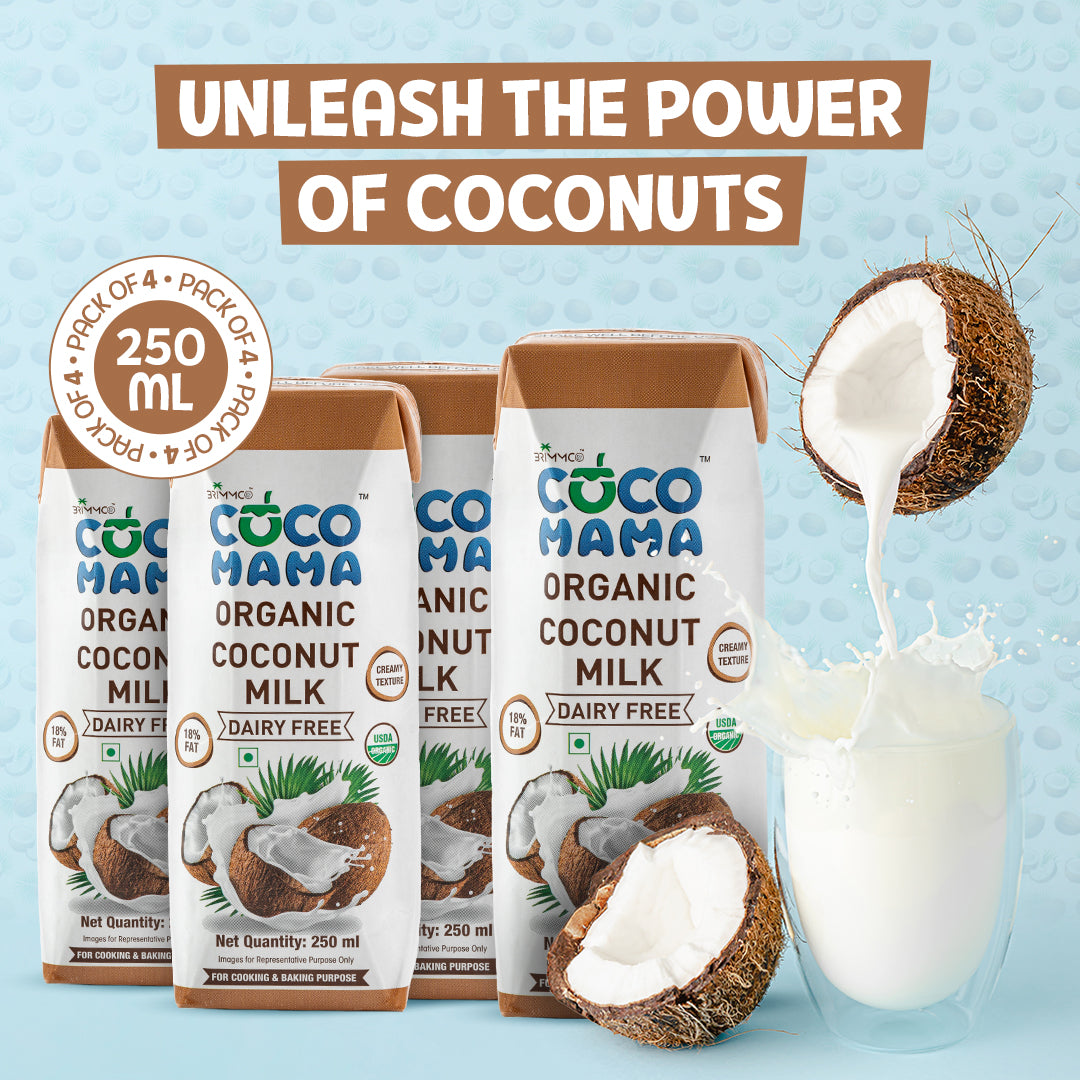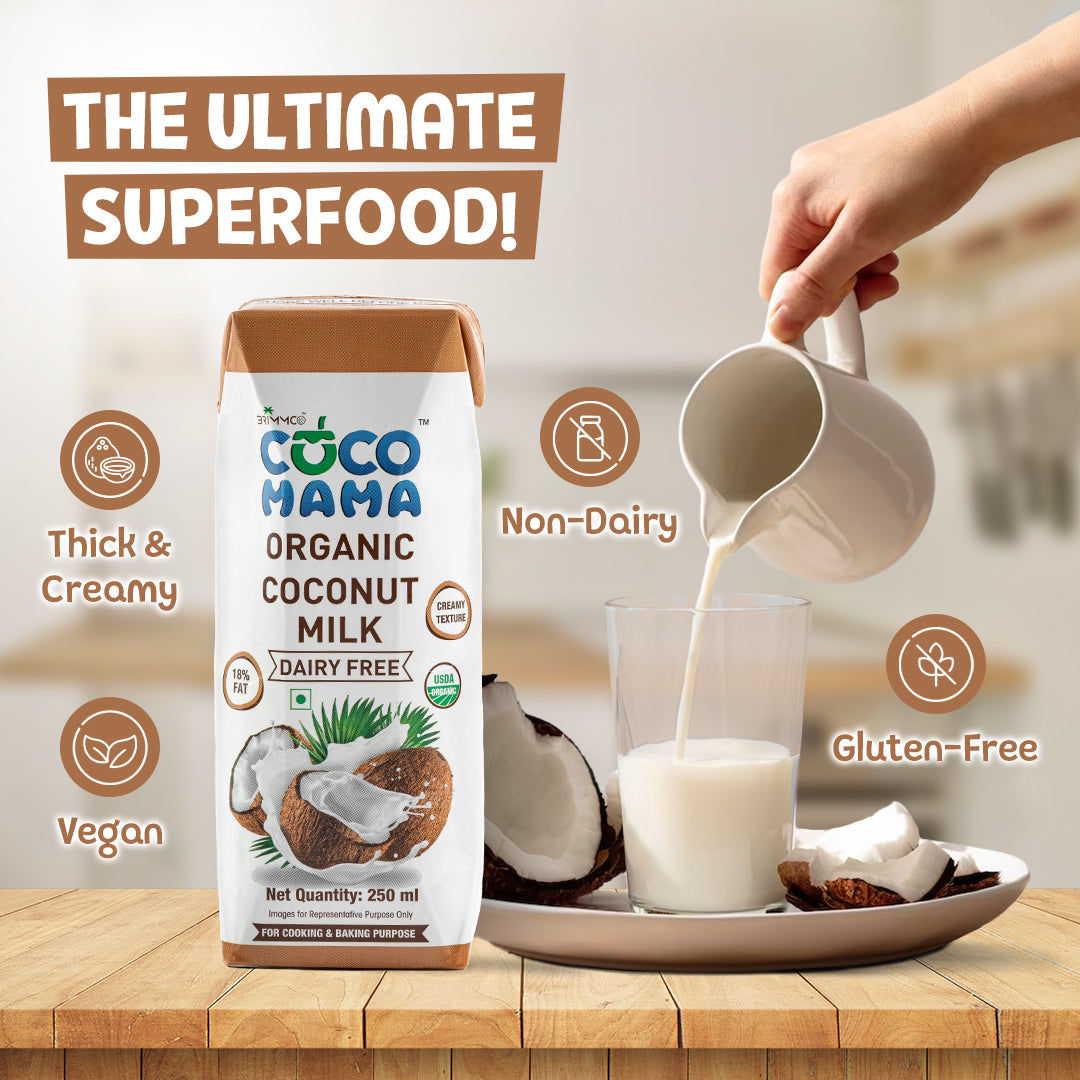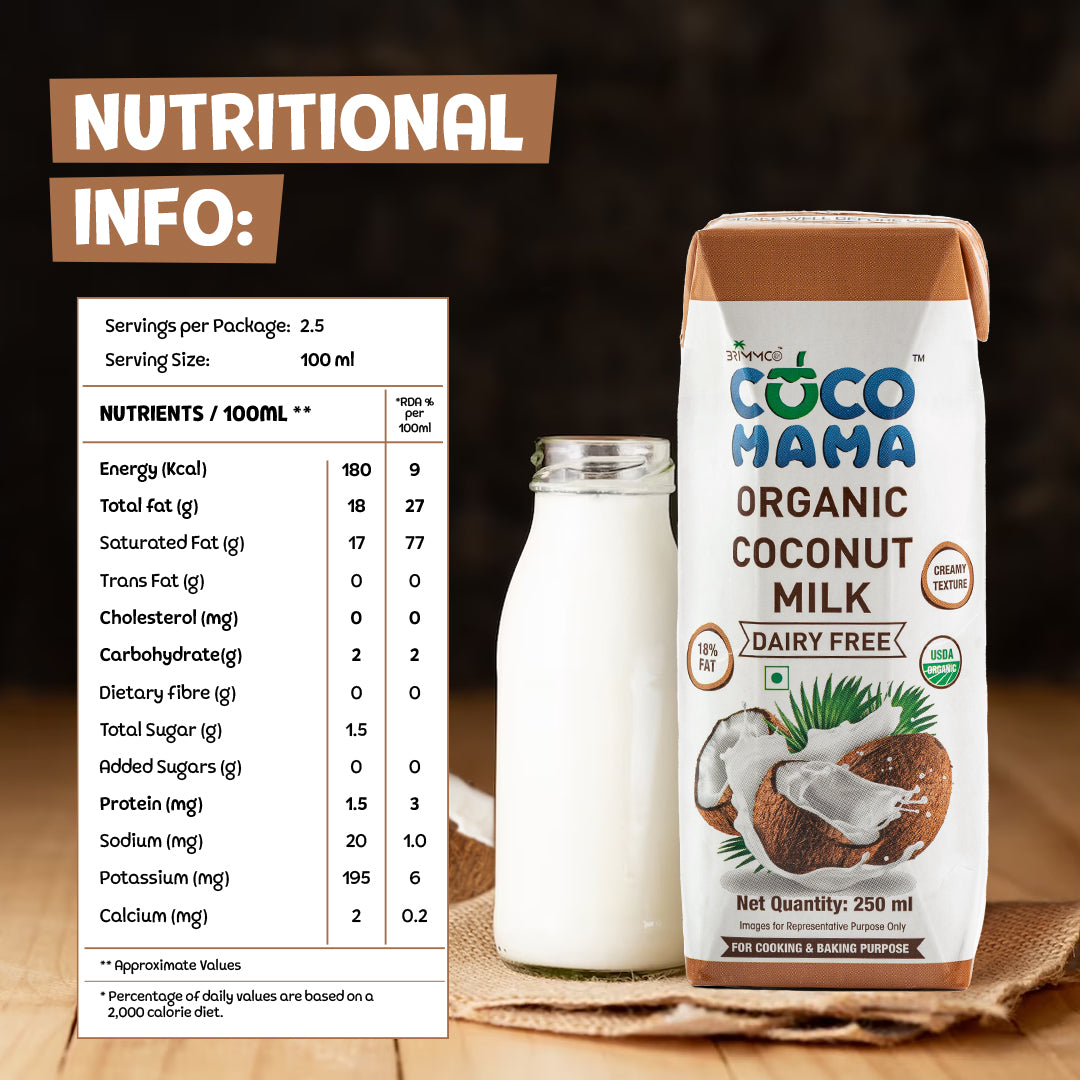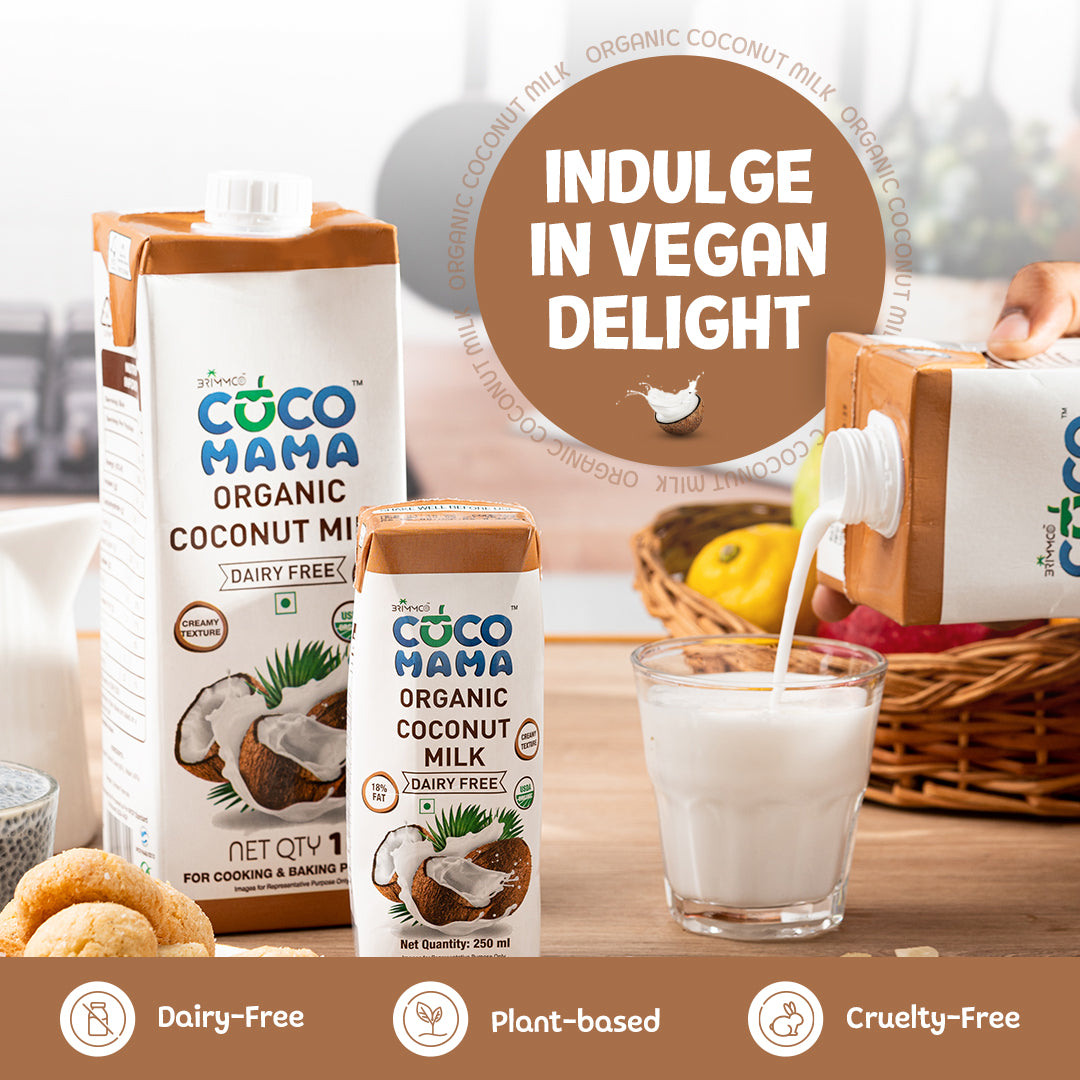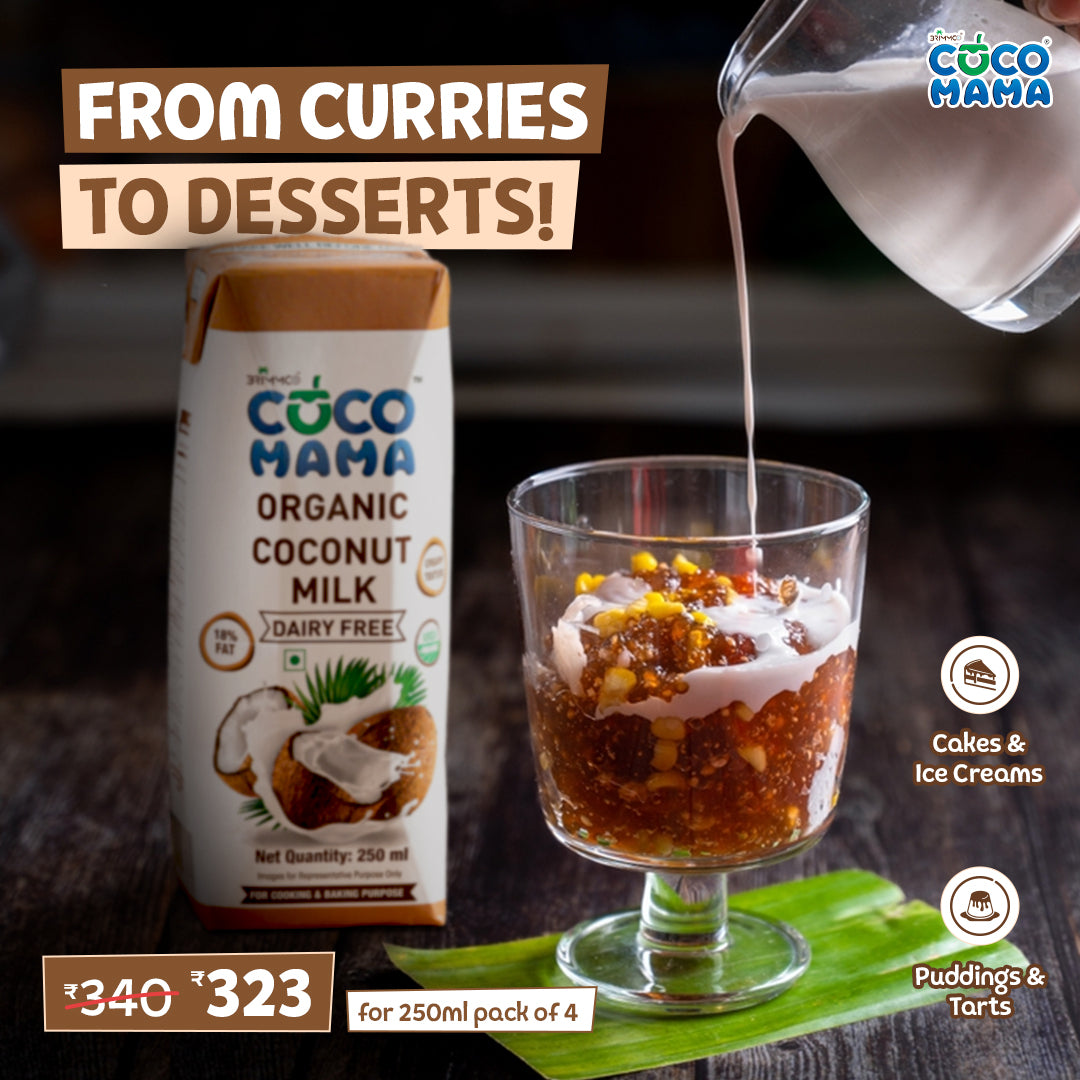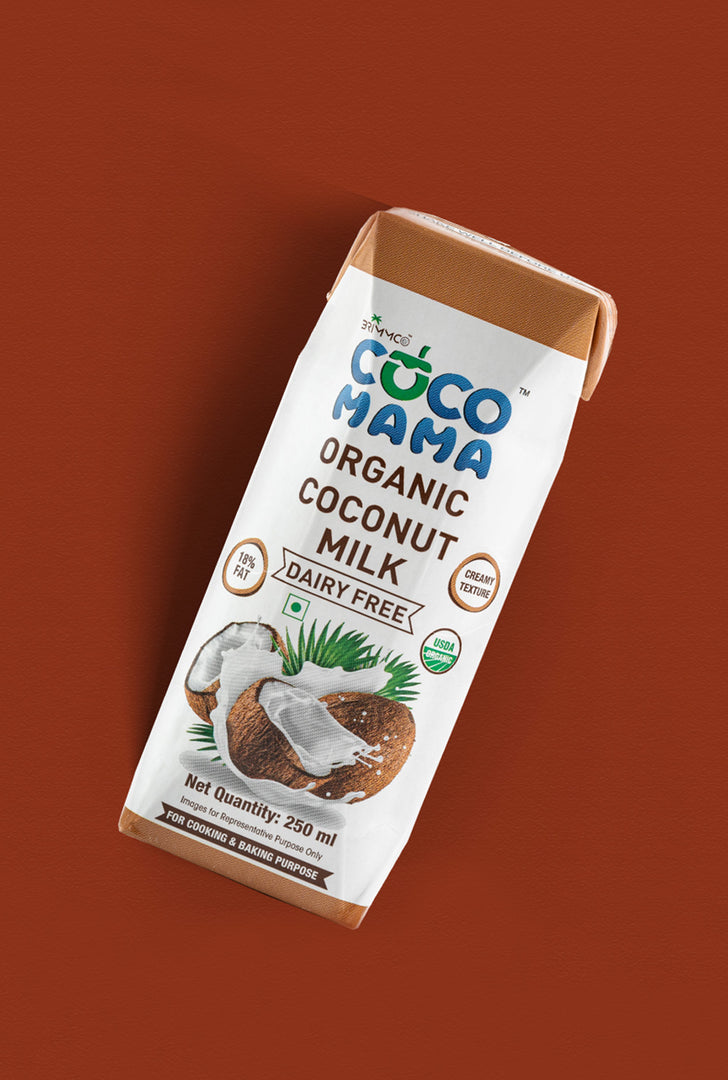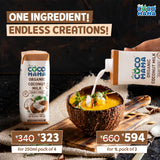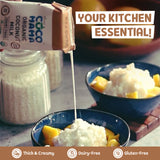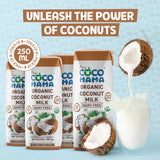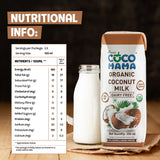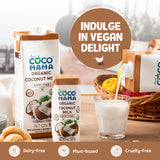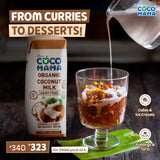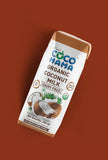 Coco Mama - Organic Coconut Milk, Unsweetened, 250ml (pack of 4)
PACK CONTAINS - Coconut Milk - 4 PACK of each 250 ml
Looking for the perfect dairy-free, plant-based milk alternative? Coco Mama's organic coconut milk is indeed a nature's gift!
Vegan

Non Dairy

No-added colors

Non-GMO

Gluten Free

UHT Processed

Used in Cooking
YOU SHOULD READ THIS!
THE TRUTH ABOUT
COCONUT MILK
It's full of important nutrients like manganese and copper. Including moderate amounts in your diet will boost your heart health.
The Dream Come True for all the Vegans out there!
The presence of lauric acid helps to strengthen the immune system of the body.
Every Celebrity, Model, And Beauty Guru Loves Coconut Milk, it's Nayanthara's 'go-to breakfast drink'
WHY IS THIS INEXPENSIVE &
DELICIOUS PLANT MILK SO GOOD FOR YOU
Coconut

milk is a dairy-free milk alternative that is truly delicious and nutrient-rich.

Yes, it has mind-blowing benefits for hair, face and skin.
When it comes to making coconut milk a part of your regular diet, the sky's the limit. Stews, curries, baking, smoothies, ice creams and list goes on.
Our coconut milk is 100% Pure, Vegan and Additive free, made using ONLY coconuts and water.
+

-

NUTRITION INFORMATION

NUTRIENTS / 100ml* *
*RDA % per 100ml
Energy value
180
Kcal
9
Total fat
18
g
27
Saturated Fat
17
g
77
Trans Fat
0
g
0

Cholesterol

0
mg
0
Carbohydrate
2
g
2
Dietary fibre
0
g
0
Total Sugar
1.5
g
Added Sugars
0
g
0
Protein
1.5
g
3
Sodium
20
mg
1
Potassium
195
mg
6
Calcium
2
mg
0.2

+

-

Shipping & Dispatch Time

5 Working Days From The Date Of Placing Your Order.

This product is non-returnable. Exchange or Refund will not be made against a non-returnable item unless there is a defect or is different from its description.

+

-

FAQs

What is the shelf life of your products?

The shelf life of our products varies depending on the product. Our Coconut milk Tetra Packs have a shelf life of 12 months. You can also refer to the product label for details regarding shelf life.

How many days does your product last after opening?

Once opened, we suggest you consume the product within the next 24 hours if not refrigerated. Refrigeration helps you enjoy our products for up to 48 hours.

Do I need to keep the products refrigerated?

Our products are ambient, and hence can be stored at room temperature until they are not opened. The products need to be refrigerated when opened and must be consumed within 24 hours if not kept refrigerated after opening.

Can I get your products home delivered?

Yes. Currently, we have a home delivery service available in some regions. We will be starting home deliveries to other locations soon. Meanwhile, for delivery across other cities, you can check Bigbasket.com or Amazon.in.

Can the kids consume your products?

Absolutely! Our products are great for boosting energy levels naturally and make a great healthy snack for kids.

Do I need to add water to your product?

No. Our products are ready to use.

Can I use your product in my cocktail or recipe?

Absolutely! Our products are a great mix for your cocktail, smoothie bowls & various other recipes.

Can I have the products if I am nursing/pregnant/diabetic/taking medication?

While our products are fit for consumption for everyone, we advise you please consult your physician for advice before consuming.

Can I have your products after the expiry date?

We strongly advise you not to consume the product after the expiry date.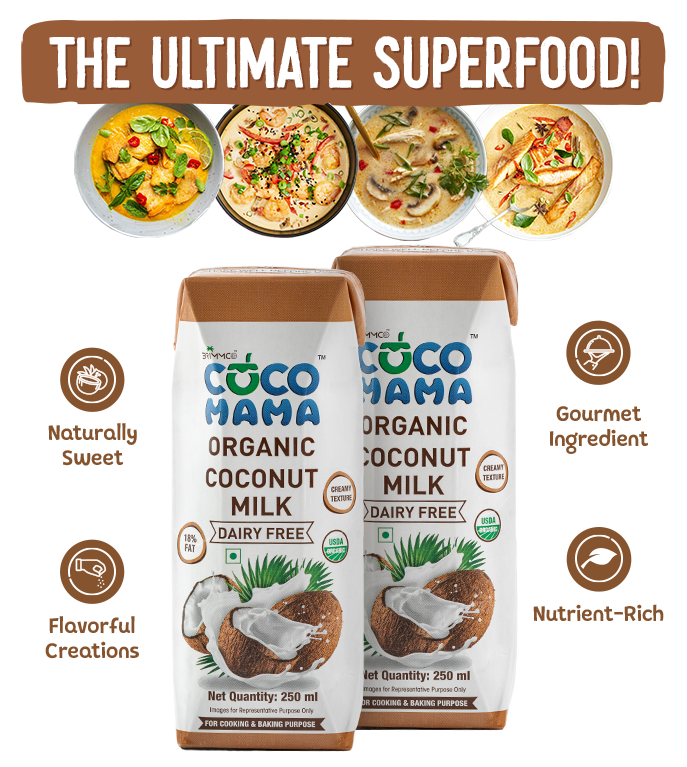 REVIEWS
Totally loved the quality, both for consuming and beauty applications. Bought it twice, will surely buy again.
Small amount but very thick pure white clear same coconut taste, I use this to make my morning smoothies.
Authentic coconut milk without preservatives and additives. Tastes amazing. I add it to my smoothies and it is such a taste enhancer.

Free Shipping
Delivered at your Doorstep

Online Support
24/7 Online Support provided
Secure Payment
Fully Secured Payment System